Developing recruitment software has conducted a thorough research on this topic for lots of times to keep the information we possess always up-to-date. Today we are happy to share some current information on the issue that includes problems that recruiters often face and some interesting statistics of the recruitment world. As the final flourish, we will reveal what innovative tools can be developed and applied to make a process of finding talents easier and faster.If you work for a recruitment agency or want to run a business that sells software to recruitment companies, keep reading because we have great ideas on job search apps.Problems Recruiters Face
Finding a perfect candidate
Before a recruiter finds a candidate to invite for an interview, they need to look through dozens and sometimes even hundreds of resumes. It takes time, effort, and even money. If a recruiter's monthly salary is about $6,000 and they spend 1-2 months to find a proper candidate, it means this candidate costs a company $6,000-12,000. So, why not save this money every time a company needs a new employee?
Searching dozens of job platforms
Candidates choose different platforms to place their CVs, and recruiters have to surf all the major platforms to never let a proper candidate skip. It is also time-consuming, and you never know where that very applicant is going to place their resume.
Wasting time for irrelevant candidates
Only a few of a vast amount of resumes are relevant, while others just waste recruiters' time and thus companies' resources. Alas, a specialist just can't skip this stage because until they read a CV, they can't know if it is a waste of time or an applicant the company needs badly.
Important Statistics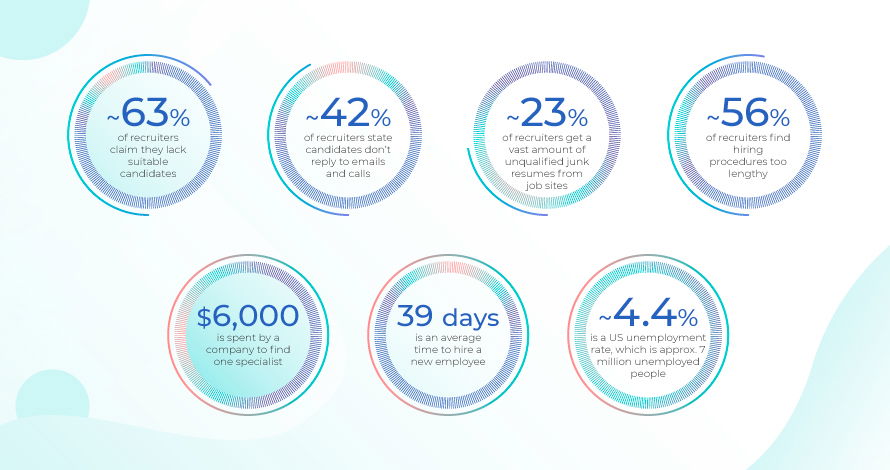 ~ 63% of recruiters claim they lack suitable candidates
~ 42% of recruiters state candidates don't reply to emails and calls
~ 23% of recruiters get a vast amount of unqualified junk resumes from job sites
~ $6,000 is spent by a company to find one specialist
~ 56% of recruiters find hiring procedures too lengthy
~ 39 days is an average time to hire a new employee
~ 4.4% is a US unemployment rate, which is approx. 7 million unemployed people
As one can see, there are millions of unemployed people and a great number of recruiters challenged to bring skillful specialists to their organizations. And these two parties just can't meet — like Romeo and Juliet, though not because of their families but because of the poorly structured recruiting system and lack of helpful tools. Our SolutionWe offer to create an app with a dynamic search of candidates from major job platforms on the Internet using keywords.The app is useful both for recruiters and candidates. Such applicant tracking system scans a candidate's profile and shows them relevant vacancies with recruiters' contact information. After a recruiter places an opening, the app finds candidates in its internal base and on major job platforms, scans their profiles, and provides a recruiter with a list of relevant candidates with their contacts.Killer features:
Chat for calls and text messaging with candidates
Search by geolocation
Manual search by filters so that a recruiter can find a candidate with specific skills etc.
Sharing a vacancy/candidate's profile
Video interviews, which are very helpful for interviewing remote applicants and saving both parties' time for personal meet-up
Reporting & analytics to get insight of a recruiting process and improve performance
Custom offer samples that a recruiter creates once and simply changes specific information for each position
A complete list of a company's openings to let more people apply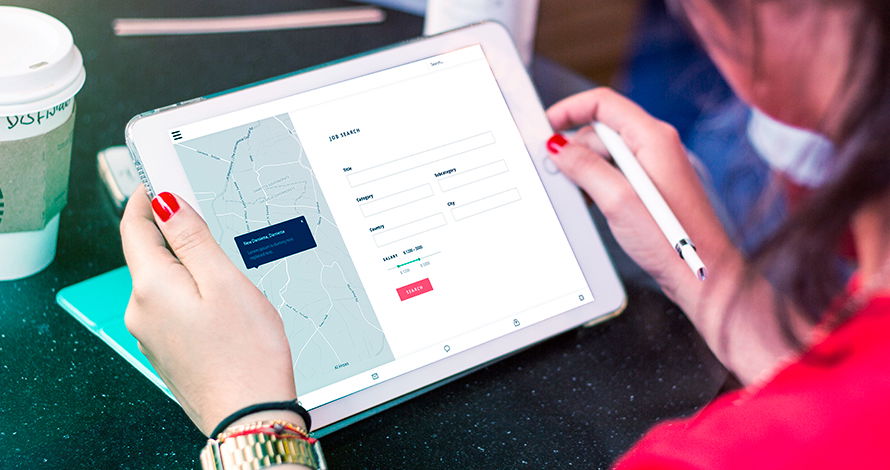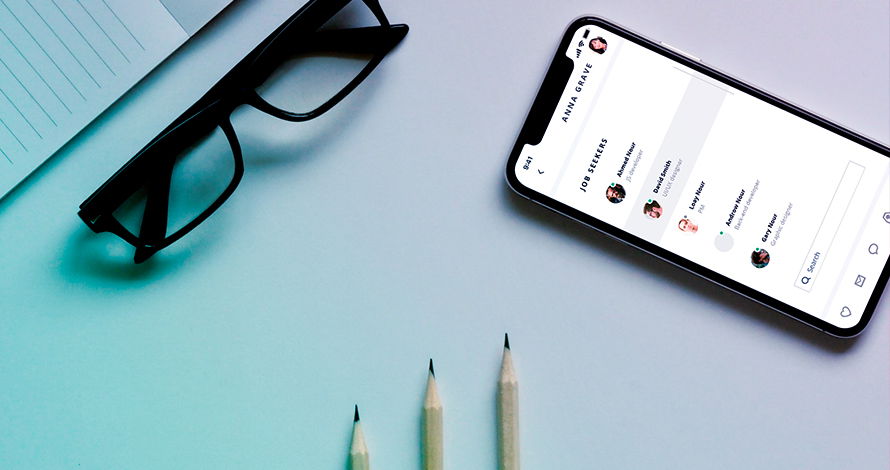 Obvious Results
Minimizing search and processing time for both parties
With such an app, there won't be any need to open dozens of tabs in a browser to search for star talents
Increasing the number of job applications
If an opening is available on a resource thousands of candidates can access, it will have inbound
Improving the quality of candidates selection
With filters and a detailed profile, it is easier to find a person who meets position requirements Who Benefits
Recruitment agencies
Business owners
HR departments of companies
Job seekers
Whether you are a recruiter or want to start business in this sphere, a qualitative app to find top talents is the best solution that will make lives and work processes of many people much easier and will certainly bring a financial result. Recruitment online is the future of hiring!